Vera Scekic, Untitled (pthalo stain)
Vera Scekic Artist Statement
My work aims to straddle formal boundaries and balance chance occurrences with intent.  Although the primary medium is paint, I do not consider the works to be paintings in the traditional sense.  Instead, I manipulate paint to investigate its chromatic and material properties, its sculptural possibilities and its metaphoric capacity.
I am especially fond of paint that oozes, drips, puddles and surrenders to gravity.  I excise and collage these pours of pigment into hybrid organisms that evolve through accretion and serendipity.  Analytically presented on monochromatic backgrounds, and inhabiting a space between the familiar and the strange, the works speak to recent developments in the life sciences that have enabled researchers to manipulate genomes and create novel species.
Modernism's grid, both overt and implied, supplies each work with a scaffold, while my quixotic search for the beautiful spill drives the process.  What (I hope) results is a work that merges interior and exterior, blends science with fiction and thrives in the gap between the artificial and the organic.
Response by Jericho Brown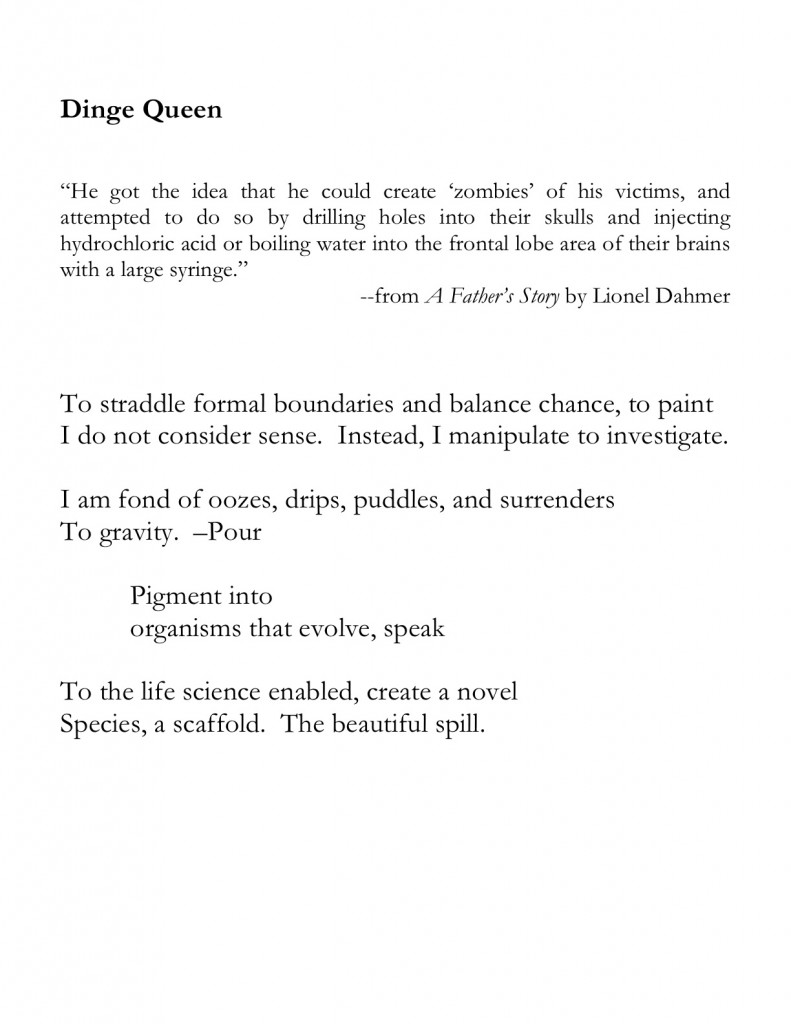 In addition to conducting experiments in paint, Vera Scekic curates shows and occasionally writes art reviews and commentary.  Her long-term goal is to merge the studio with the lab.  Jericho Brown won an NEA Fellowship, the American Book Award and the Whiting Writers Award for his first book, Please.